The basic of Kuala Terengganu Town administration starts  with the formation of local authority administration system which was known as Kuala Terengganu Town Board. The administration of Kuala Terengganu Town was then placed under Kuala Terengganu Municipal Council in 1979. Kuala Terengganu Municipal Council has played an important role in the effort of developing Kuala Terengganu surroundings by providing modern infrastructure and effective service to ensure the comfort and peace of  the residents.
Although the residents were very synonym to fishing activities, other economic activities also has developed progressively especially the agricultural , handicraft  such as copperware, songket, silk, batik and traditional boats. The uniqueness of traditional arts and culture and the creativity of the heritage carving arts skill of the people of Kuala Terengganu since heritage  has contributed to the Terengganu State tourism industry.
The God nature's beauty    on this fortunate land is very impressive. This situation is an invaluable asset and has made Kuala Terengganu a well-known tourist destination. The organization of Monsoon Cup or The Formula One Of Sailing which is a professional sailing series since 2005 has makes this town well-known by the international community.
From a main trading center in the past, Kuala Terengganu has experienced rapid growth which is very distinctive  and competitive with other main towns at the moment. The development of Kuala Terengganu is different from other towns as the modernization still maintains the heritage characteristics and Islamic architecture.
The recognition that brings  a deep meaningful will leads to further development for the prosperity of the entire residents. The beautiful and unique panorama has change the view  of Kuala Terengganu which had  never been dreamed of by the previous generation.
The Crystal Mosque  was established on Wan Man Island as Islamic Civilization Park. It places a crystal mosque, 21 replicas of Islamic monuments and an exhibition center which exhibits Islamic technological architecture. Among them are Masjidil Haram, Taj Mahal and Kul Sharif in Takarztan, Russia.
Sultan Mahmud Airport has been upgraded to an International Airport. With a complete facilities, this airport will be able to provide the best service besides  comfort for the local and foreign tourists
The locals  are rich with their own traditional arts and culture. Traditional arts and games such as the silat arts, gamelan, ulik mayang and kite flying are among the heritage arts which are definitely will be retained . The uniqueness of the arts inherited from the past generation becomes tourist  attraction  for  this town.
From a trading place and a main Islamic spreading center in the past, Kuala Terengganu continues to experience rapid growth and simultaneously brings  peace and prosperity as a  hope and pride for all the  people.
As of today, 1st January 2008, Kuala Terengganu has been given the recognition as Kuala Terengganu City Council, the Waterfront Heritage City.
Hopefully Kuala Terengganu City will continue to develop and become an excellent city. Oh, Allah, bless the Kuala Terengganu Heritage City.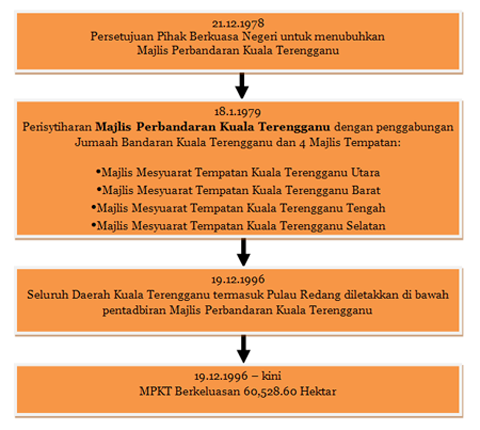 Kawasan Pentadbiran Majlis Bandaraya Kuala Terengganu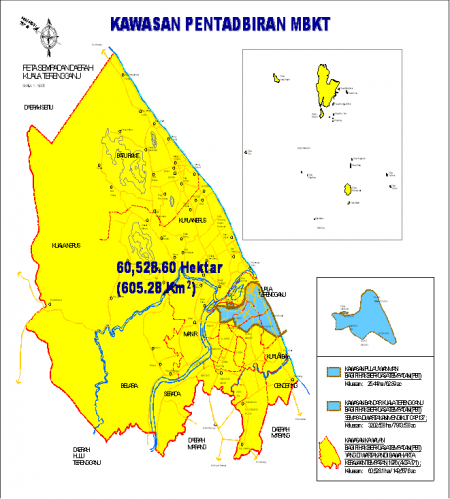 Klik pada gambar untuk paparan lebih jelas